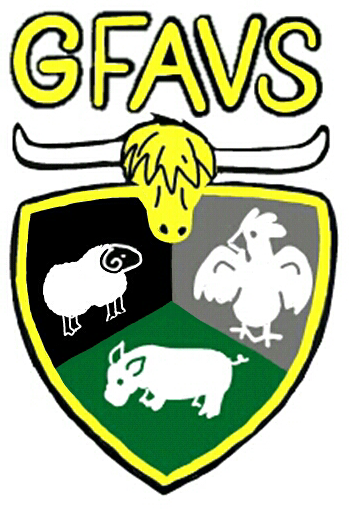 Do you enjoy slathering your arm with lube and inserting it up where the sun doesn't shine on a cow? Or chasing a mad gimmer around and around trying to get her in a pen at lambing time? Well GFAVS (Glasgow Farm Animal Veterinary Society) is the society for you! Only formed last year, GFAVS is for any vet student who is interested in farm animal work and wants to learn a bit more than is taught in lectures. Our aim is to bring a variety of farm animal based practicals and lectures to the vet school, both pre-clinical and clinical focussed.
Last year we had a variety of events including a talk from Novartis about BVD and a very interesting trip to Innovis in Edinburgh to watch sheep being flushed for embryo transfer. Innovis is a unique centre, the only one of its kind in Scotland which carries out sheep artificial inseminations and embryo transfers. Despite the 6am start it was very popular and the vet was kept extremely busy answering everyone's questions!
The trip of the term was to a specialist pig farm at Oatridge Agricultural College near Edinburgh, thoroughly enjoyed by all who went along. They learnt about the importance of biosecurity in a pig herd, visited the boar unit, learnt how the pigs are trained to take wormers by learning to drink apple juice and saw the farrowing unit with sows and piglets. A Tuesday evening talk from robotic milking company Lely was very well attended, with a highly interesting chat from the Dutch vet who had flown in to Glasgow specially for GFAVS, discussing the development of robotic milkers, their place in the modern dairy industry and how large animal vets can use them and the data they produce to the advantage of the farm. GFAVS also hosted their first fund-raising social this year with the dubious title of 'Glasgow Bull Sales'. Featuring the highest quality bulls the vet school could muster, there was fierce bidding for each sire which resulted in some disputes among onlookers but the rewards were priceless. Coupled with the first ever GFAVS polo shirt sale, featuring the brand new GFAVS logo, the committee now has some cash stored under its mattress which we aim to use to subsidise future events next term. For 2014 we are planning a visit to Paisley abattoir, a farm walk at an Ayrshire dairy farm, a sheep flock health day featuring Fiona Lovatt (head of the Sheep Veterinary Society), a few talks and, of course, FAVS Congress (the highlight of the year!)
You don't have to be from a farming background or even have your heart set on being a farm vet after graduation to join GFAVS, anyone interested in anything farmy is more than welcome. Keep up to date with everything GFAVS by following us on facebook.